The Tilted Stage

Costume Shoppe
The Raleigh Area's Premiere Costume Shoppe!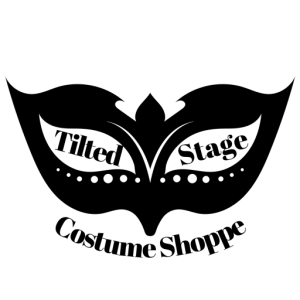 Welcome to The Tilted Stage, the premier costume shoppe in Raleigh! We've got an extensive inventory of costumes and accessories for rent or sale that'll have you feeling like the life of the party. So whether you're looking to be a swashbuckling pirate, a beautiful Southern Bell, or Harry and Lloyd from Dumb and Dumber, we've got you covered.
At The Tilted Stage, we believe costumes aren't just for Halloween – they're for life! So whether you're dressing up for a themed party, a cosplay convention, or just for fun, we're here to help you make a statement.
The Tilted Stage is under new ownership, and we're working on our new website to offer online rentals and ordering! Until then, come visit us Tuesday through Saturday, and we'll help you find your perfect costume and accessories. We guarantee you won't leave empty-handed unless you can find our invisible man costume!
Come visit us today, and let's get you suited up in the costume of your dreams!
The Tilted Stage had an extensive collection of costumes ranging from Time Period pieces, your favorite Movies & TV shows, Career themes, and everything in between!
We also offer Theatrical Show Rentals! Neal and Karon Evans are the owners of the Tilted Stage Costume Shoppe as of 2023.  They are also owners of Starbright Youth Theatre and have a deep passion for making life as fun and exciting as possible through self expression!
A tilted shage is a theatre stage that slopes upwards, away from the audience. Such a design was typical of English theatre in the Middle Ages and early Modern era, and improves the view and sound for spectators.  We love theatre, the history, and how it has evolved in modern times.  The little details make all the differnce and we are here to make you a show stopper!
Never miss updates about The Tilted Stage Costume Shoppe! Subscribe to our newsletter
6602-6 Glenwood Ave
Raleigh, NC 27612
Sunday & Monday – Closed
Tuesday-Friday – 10am-8pm
Saturday – 11am-5pm
Phone: (919) 916 – 5665
Email: info@tiltedstagecostumes.com